PR News recognized LOPA as a finalist at its luncheon on May 23rd in New York City for using social media to create positive change in our world. 'The Heartbeat Heard 'Round the World', a video captured live by LOPA staff on Father's Day 2017, was a finalist in the PR News' category for Best Facebook Live Video. This video went viral and has been shared by international news outlets and has garnered over 150 million views in at least 19 languages worldwide.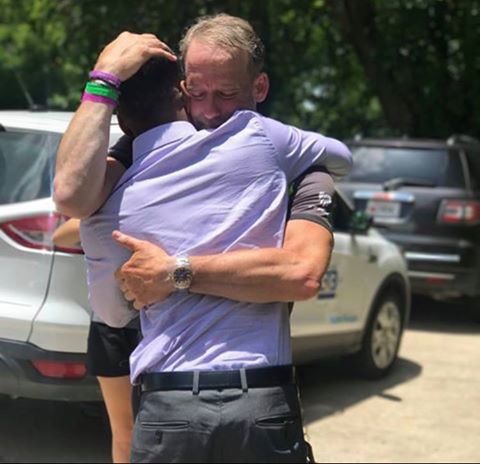 The story began with a registered organ, eye and tissue donor, and hero, Abbey Conner.
Abbey became a donor 5 months before her dad, Bill Conner, decided he would ride his bicycle from Madison, Wisconsin to Ft. Lauderdale, Florida. Abbey saved the lives of 4 people. Bill Conner's mission for his bike ride was to raise awareness for registering as an organ, eye and tissue donor, just like Abbey did.
Along his route to Florida, Bill planned to stop near New Roads, Louisiana to meet his daughter's heart recipient, Loumouth "Roppy" Jack, Jr. Bill contacted LOPA asking if we could help coordinate the meeting and press communications that day. LOPA went live on the Facebook Page managed for Donate Life Louisiana, and the video's viewing stats immediately took off. Bill was named ABC's Person of the Week because of that video, and many other media outlets contacted LOPA for access to the video.
The team capturing the video on Father's Day 2017 included LOPA employees and students with LSU's Manship School of Mass Communication. These students and professors partner with LOPA each semester to help us educate the public about organ, eye and tissue donation. Donor Dad, Bill Conner, was able to join LOPA in New York City, along with a delegation from LSU Manship School of Mass Communication.
Abbey's Ride For Life continues to reach millions. Thousands have registered to be an organ, eye and tissue donor because of that emotional Facebook Live video.